Mission
Our mission is to rebuild the worlds of fine observation and manufacturing by photocathode technologies.
Electron beam is currently a key element in these fields and used in various devices such as semiconductor inspection equipment, electron microscopes, and metal additive manufacturing. In spite of importance of it, electron beam technology, has not been changed for almost 40 years, and their performances were supposed to be reached a limit.
Photo electron Soul does break the limit and our photocathode technologies generate ultra-high performance electron beams in coherence, electrical current, and beam shapes (e.g. pulse beam). We can realize fine observation and manufacturing you've never obtained before, and bring break through and new findings in variety fields such as life science, material, and electronics to you.
Our electron beam is generated by irradiation of light to the cathode (photoelectric effect).
We have chosen semiconductors as the cathode materials, and been developing the systems which is reasonable for industrial use in cost, size, and so on.
Our electron beam depends on the proven technologies which have been developed at Nagoya University for more than 30 years.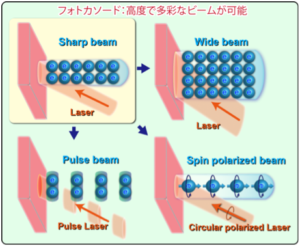 Team
CEO
Takayuki SUZUKI, Ph.D.
He co-founded Photo electron Soul Inc., and represents the company as CEO. He has almost ten years of experience in R&D and commercialization of technologies based on academic research. After doctoral program at Nagoya University, he engaged in R&D for advanced technologies at University of Delaware and start-up. And he also he has experience as technology transfer manager at Nagoya University.
Chief Technology Officer
Tomohiro NISHITANI, Ph.D.
A co-founder of Photo electron Soul Inc., and CTO. He has been producing outstanding results in photocathode technology through his research carrer extending over 20 years at Japan Atomic Energy Agency, Riken, and Nagoya University. Becouse of his achievements, he was awared Kazato Research Encouragement Prize. He obtained a Ph.D. in physics at Nagoya University.
Chief Financial Officer
Itsuro TAMURA
A co-founder of Photo electron Soul Inc. He experienced in company operation including restructuring of organization, and transfer and acqusition business, at Medical & Biotechnological Laboratories Co., Ltd. and Yamazaki Mazak Corp. He has an MBA, and is the chief in cooperate plannning at Photo electron Soul Inc.
Chief Operating Officer
Shigeru TSUCHITANI
He spent nearly 30 years in Applied Materials.Inc after the college graduation. He joined the Japanese subsidiary of Applied Materials where he started his career from a field service engineer and had process technology, engineering and development experiences before he held various management positions such as CMP GM, Service department GM, Solar Biz GM,,,etc. In 2012, he joined the one of US Laser equipment manufacture as a country president of Japan. And in 2015, he joined one of the start-up company who manufacture some cleaning equipment for semiconductor as an marketing officer. Oct,2017, he joined Photo electron Soul.Inc and promoted to current position since Jul,2018.
He holds a bachelor of nuclear engineering from Kobe university of the mercantile marine.